We can capture YOUR WORLD from another angle – EVERY Angle in fact!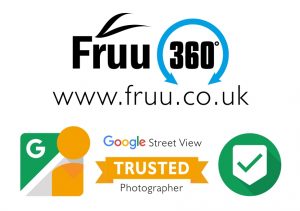 As a Google Trusted Photographer l can offer a fantastic opportunity to businesses who require some of the most amazing views of their premises and products.
This type of photography is striking and impressive to use as promotional photographs or video footage. It has many applications and both internal and external, 360 degree photos and videos can be produced.
You can see far more detail and get a real feel for the building or outside-area concerned.
BUSINESSES TAKE NOTE

Google is actively promoting their Street View for businesses by extending Street View INDOORS.

They are looking for 360 degree photos and Walk-through tours of YOUR Businesses and Places of Interest.

Our Google Photo & Upload Service is perfect for Shops, Restaurants, Pubs, Surgeries, Hotels, Guest Houses. Holiday Homes & Parks.

We take 360 degree photos of your premises and upload them directly to Google Street View for you.

We operate a One-off payment with NO on-going charges and NO fees to Google.
A picture may well say a thousand word but when you can move yourself around the picture, backwards and forwards, up and down, you get a true idea of the environment.
You can study areas of the environment by zooming in and out inside a FULL 360 DEGREE Photograph. The view is as though you were inside a bubble with the ability to see the world all around you.
With amazing 5.7K Picture Quality and Fully Interactive, your customers cannot fail to be impressed.
BOOK A GOOGLE INSIDE OR OUTSIDE 360 PHOTO SHOOT TODAY

Call Andy on 07772 481067
Drone-type 360 Degree Interactive VIDEO
Whilst our 360 degree photos are impressive and great for internal views that you can move around in. You should see our videos…
360 Degree Videos are sometimes mistaken for Drone Videos. However the system we use is better than a drone for low-level recording and safer too when people and property are nearby.
Take a look at some of the applications and examples we have below:
Google Street View
Here is an example of a Google Street View listing which you can embed in any website. It shows how an interactive tour is possible. Inside or outside, the tours work in the same way. This is a great way to promote your premises on Google Maps and share the result on your website or Facebook and other Social websites. And, other than the cost of the initial Photo Session, this is all possible to do yourself for FREE if you know what you are doing on these platforms.
MOTORHOMES, CARAVANS and HOLIDAY HOMES
Take a look at the example of a Motorhome below to see how effective our 360 degree photos are.
You can pan around the photo below to see every detail. Scrolling the wheel on your mouse allows you to zoom in and out.
Clicking in the TOP RIGHT CORNER allows you to alter the type of view through the following options
NORMAL | FISHEYE | PLANET | BALL
HOLIDAY PARKS or VISITOR CENTRES
Fly-through videos filmed in normal, bullet mode, hyper-speed or slow-mo can impress and inform potential visitors by giving a "Better than Lifelike" view of your park or centre. In a few minutes viewers will be eager to come and visit!
PROPERTY VIEWS
Perfect if you are selling your house. Potential buyers can get a real insight into how the property feels. Call me, Andy on 07772 481067 to discuss our property video package. It is more affordable than you think!
ABI Ambleside Mobile Home www.charnwoodacres.co.uk
BUSINESS PREMISES
Proud of your place of work? Let Clients see what kind of establishment you have.
Second Time Around Furniture Store – www.secondtimearound.org.uk
Click on one of the views and then click in the top half of the main picture to navigate around.
SCROLL on your mouse to ZOOM in and out
SHARE ON FACEBOOK
You can even share the 360 Photo as an automated video on your Facebook page or embed it into your website.
Check out the example below to see how a FRUU 360 Facebook video looks when embedded in a website.
Click on the Facebook Logo to go to our Facebook page… Don't forget to SHARE it and spread the word!
RESTAURANTS
Show folks how welcoming your restaurant is. And if you have a shot on a packed night a 360 Video will convey the fabulous time your customers are having!
With 360 degree photography we can get some funky and artistic results. Here is a video shot as a Tiny Planet and the speeds changed. Let us know what you are trying to achieve and we will come up with the right solution.