"I can capture YOUR WORLD from another angle – EVERY Angle in fact!"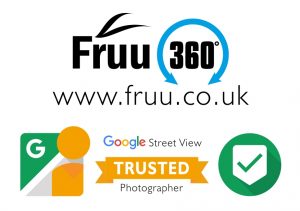 GOOGLE TRUSTED PHOTOGRAPHER
As a Google Trusted Photographer l can offer a fantastic opportunity to businesses who require some of the most amazing views of their premises and products. This type of photography is striking and impressive to use as promotional photographs or video footage. It has many applications and both internal and external, 360° photos and videos can be produced.
BUSINESSES TAKE NOTE

Google is actively promoting their Street View for businesses by extending Street View INDOORS.

They are looking for 360 degree photos and Walk-through tours of YOUR Businesses and Places of Interest.

Our Google Photo & Upload Service is perfect for Shops, Restaurants, Pubs, Surgeries, Hotels, Guest Houses. Holiday Homes & Parks.

We take 360 degree photos of your premises and upload them directly to Google Street View for you.

We operate a One-off payment with NO on-going charges and NO fees to Google.
GOOGLE STREET VIEW
Here is an example of a Google Street View listing which you can embed in any website. It shows how an interactive tour is possible. Inside or outside, the tours work in the same way. This is a great way to promote your premises on Google Maps and share the result on your website or Facebook and other Social websites. And, other than the cost of the initial Photo Session, this is all possible to do yourself for FREE if you know what you are doing on these platforms.
EVERY BUSINESS NEEDS A 360° PHOTO UPLOADED TO GOOGLE STREET VIEW – IT HELPS YOUR RANKING!
A picture may well say a thousand words but when you can move yourself around the picture, backwards and forwards, up and down, you get a true idea of the environment. You can study areas of the environment by zooming in and out, inside a FULL 360° Photograph. The view is as though you were inside a bubble with the ability to see the world all around you. With up to 5.7K Picture Quality and Fully Interactive, your customers cannot fail to be impressed.
---
SOCIAL-SHORTY VIDEOS
(EMBED INTO FACEBOOK & OTHER SOCIAL MEDIA)
Here's an example of how to publicise an event you held and drum up interest for the next event. We can film the event, give it a quick edit and get it uploaded to Facebook in no time. Then you can share it on Social Media or embed it into your website straight from Facebook as shown here…
This is an excellent marketing tool as viewers can link straight through to your Facebook page, "Like" and "Share" the video and they are able to view it in a range of resolutions. We can drop the quality from 5.7K to 4K HD (as in the Social-Shorty example below) for faster loading.
Videos are proven to attract more viewers than normal photographs and 360° interactive videos have an added dimension which improves appeal and "stickiness" which is the art of keeping viewers on your page for longer! Pricing starts at £150 for a Social-Shorty Video which can be up to 3 minutes long. With 50% OFF for subsequent videos shot at the same time, they make for a cost effective and professional means of promoting your event, premises or even a wedding.
SOCIAL-SHORTY VIDEOS – See example video below
---
HELP SELL PROPERTY, MOTORHOMES, CARAVANS and HOLIDAY HOMES
Take a look at the example of a Motorhome below to see how effective our 360° photos are. You can pan around the photo below to see every detail. Scrolling the wheel on your mouse allows you to zoom in and out.
Clicking in the TOP RIGHT CORNER allows you to alter the type of view through the following options – NORMAL | FISHEYE | PLANET | BALL
Adria Twin Motorhome Interior – www.geoffcox.co.uk
---
PROMOTE YOUR RESTAURANT, PUB OR CLUB WITH 360° SHOTS From £65
Marco Pierre White has a fabulous place in Gloucestershire – Well worth a stay to experience some funky artwork as well as the fabulous food!.. He's one cool Dude!
---
FROM QUIRKY PLACES TO QUIRKY IDEAS
With 360° photography we can get some funky and artistic results. Here is a video shot as a Tiny Planet and the speeds changed. Let us know what you are trying to achieve and we will come up with the right solution. All this one needs is the Benny Hill Theme playing!
---
VIRTUAL TOURS
TAKE A LOOK AT THE EXAMPLE BELOW OF MY 3D VIRTUAL TOURS
The example below shows you how the tour can be embedded in your Facebook page and also your website by simply copying and pasting some code…
These Virtual Tours are optimised and enabled for the use of Virtual Tour Headsets but they also look stunning and work perfectly when viewed on a Computer Screen or Tablet too. They can be used as a Training tool, Marketing tool, part of a Health & Safety Program or Fire Evacuation Protocol and much more. I also supply FREE VR HEADSETS with each order.
They are Fully interactive tours and can include Information Hot Spots where required
Below is an example of an Air BnB rental property that is embedded in this website by simply using some iframe coding which we supply to your website developer.
BROWSE YOUR WAY AROUND THIS INTERACTIVE TOUR OF "Chapter Cottage" – A Romantic Cottage in Buxton Derbyshire
Fancy a few days away in the Peak District? Chapter Cottage is hosted by "Sonia" and for more details and rates, she can be contacted on 07960 283481